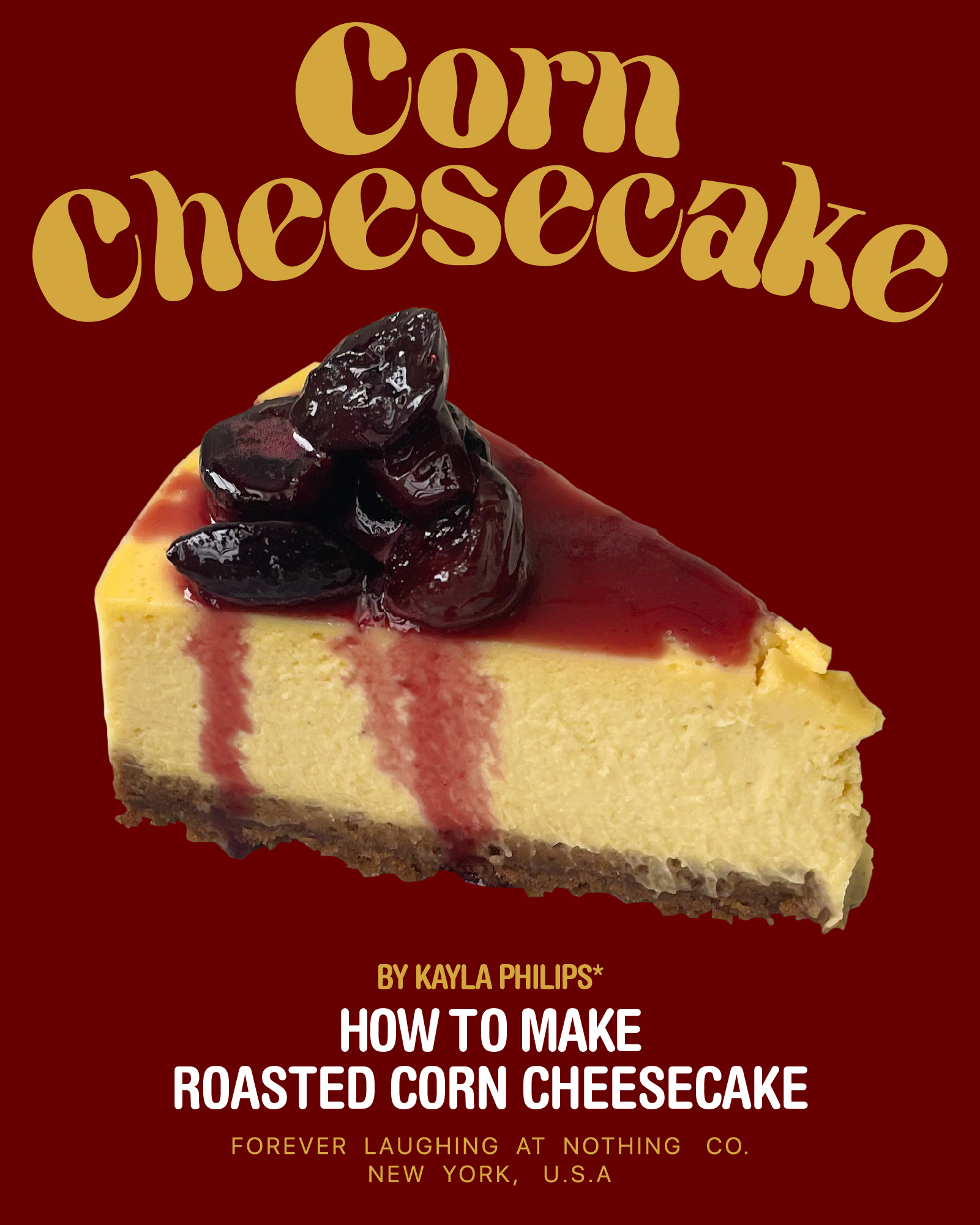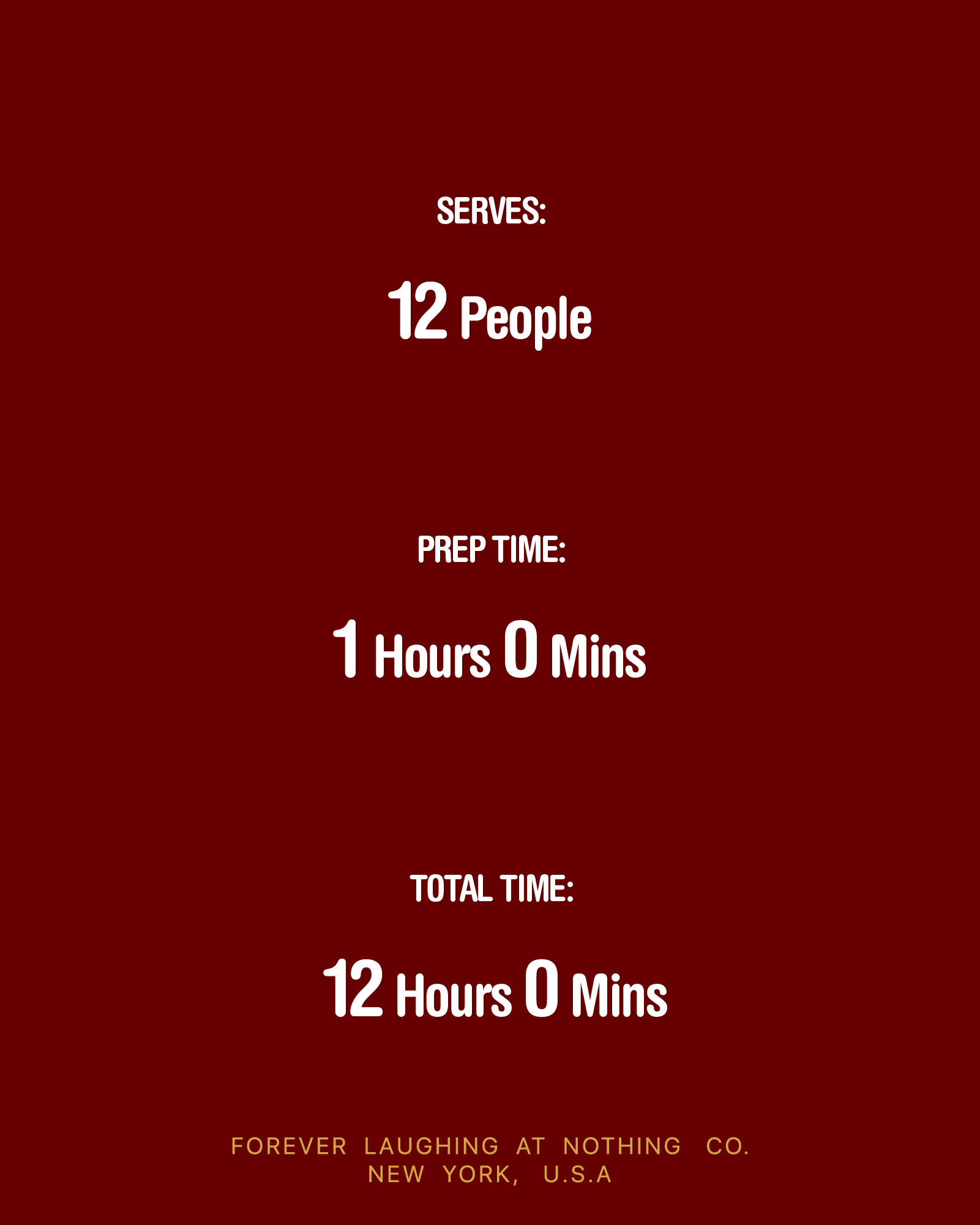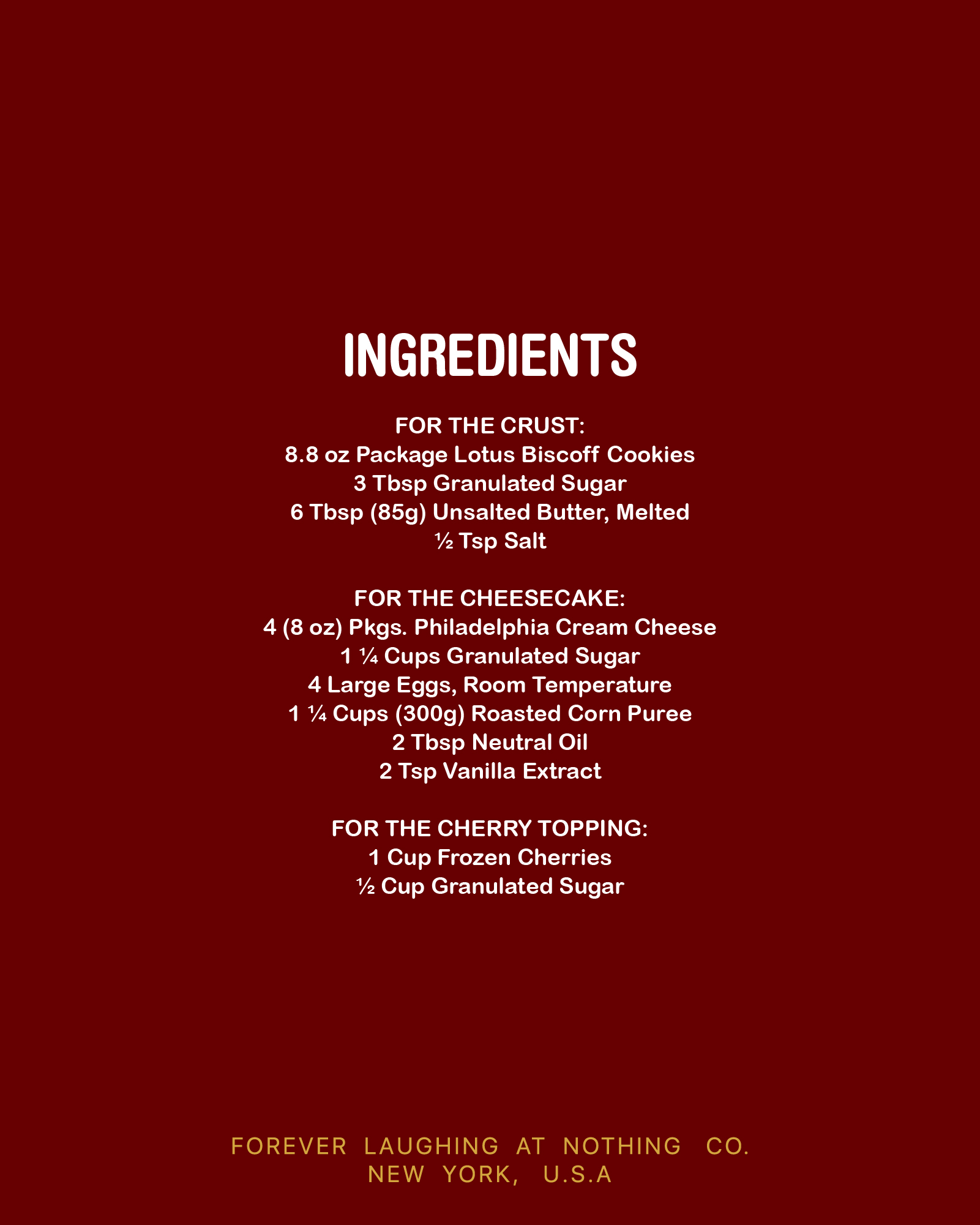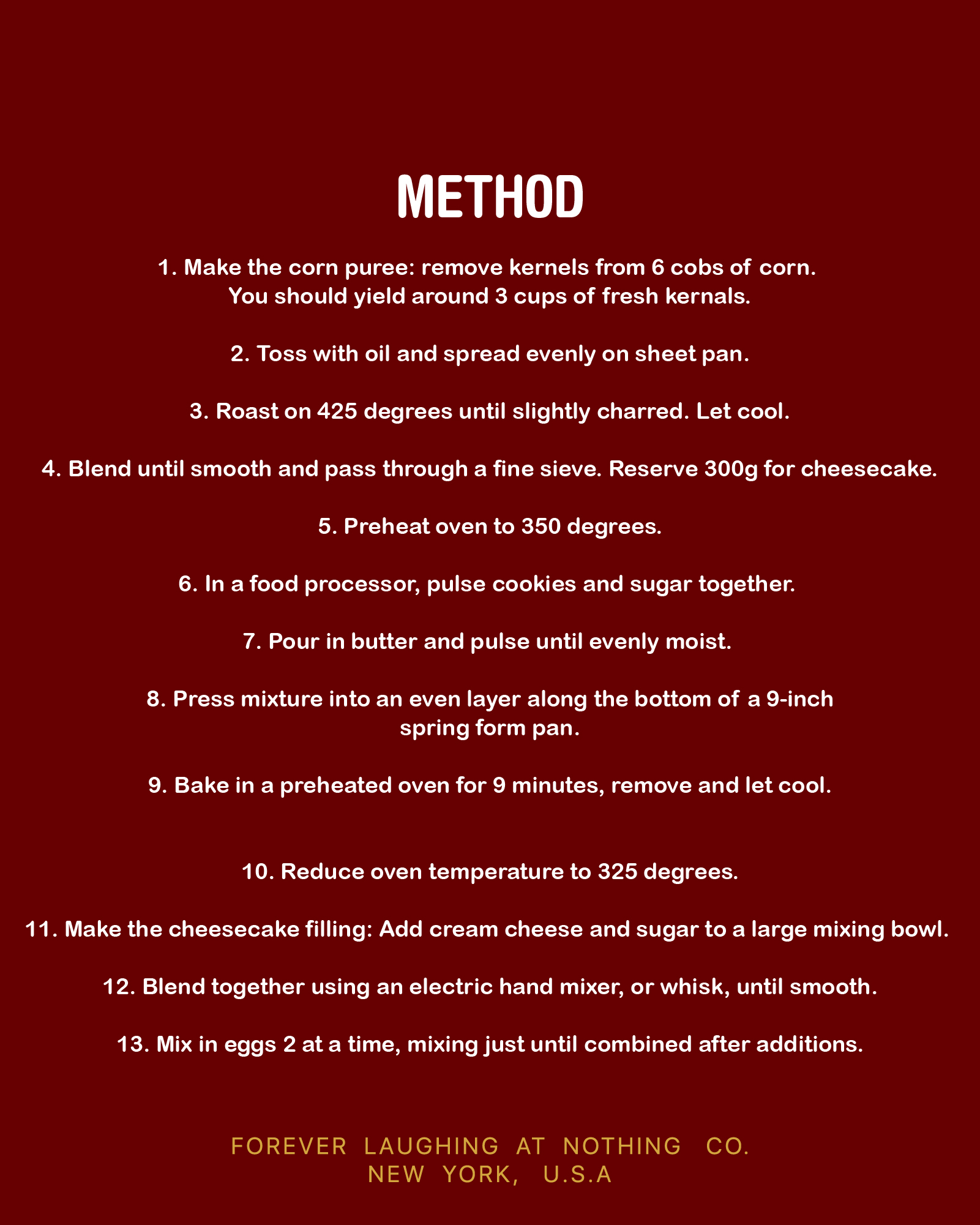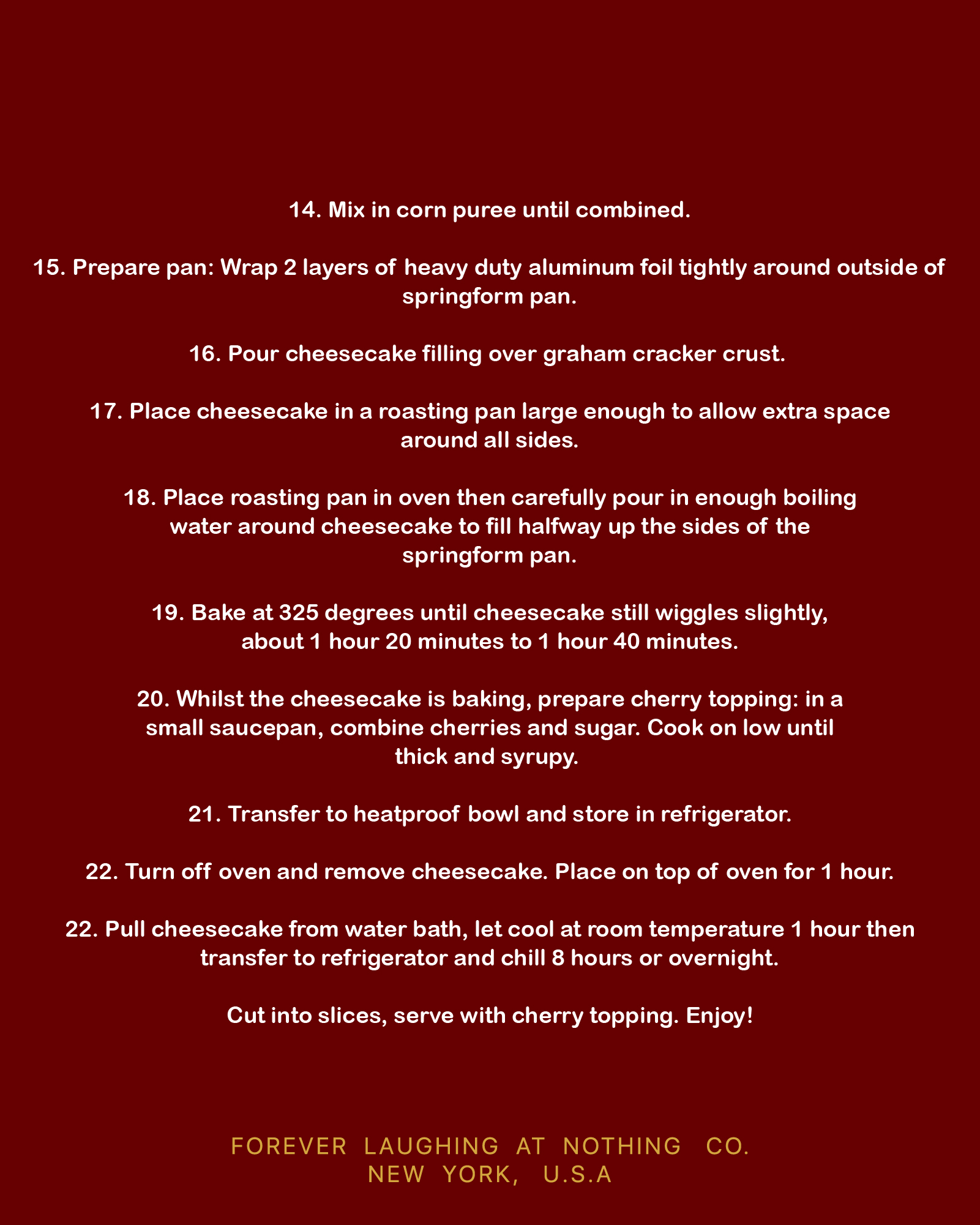 How to make — Corn Cheesecake
Guest Recipe by Kayla Philips - https://www.instagram.com/honeyraps/?hl=en
______________________________________________________________________ 

Serves: 12 People
Prep Time: 1 Hr 0 Mins
Total Time: 12 Hours

______________________________________________________________________ 
Ingredients:
For The Crust:
8.8oz Package Lotus Biscoff Cookies
3 Tbsp Granulated Sugar
6 Tbsp (85g) Unsalted Butter, Melted
½ Tsp Salt

For The Cheesecake:
4 (8 oz) Pkgs. Philadelphia Cream Cheese
1 ¼ Cups Granulated Sugar
4 Large Eggs, Room Temperature
1 ¼ Cups (300g) Roasted Corn Puree
2 Tbsp Neutral Oil
2 Tsp Vanilla Extract

For The Cherry Topping:
1 Cup Frozen Cherries
½ Cup Granulated Sugar

______________________________________________________________________
Method: 
1. Make the corn puree: remove kernals from 6 cobs of corn. You should yield around 3 cups of fresh kernals.
2. Toss with oil and spread evenly on sheet pan.
3. Roast on 425 degrees until slightly charred. Let cool.
4. Blend until smooth and pass through a fine sieve. Reserve 300g for cheesecake.
5. Preheat oven to 350 degrees.
6. In a food processor, pulse cookies and sugar together.  
7. Pour in butter and pulse until evenly moist.
8. Press mixture into an even layer along the bottom of a 9-inch spring form pan.
9. Bake in a preheated oven for 9 minutes, remove and let cool.
10. Reduce oven temperature to 325 degrees.
11. Make the cheesecake filling: Add cream cheese and sugar to a large mixing bowl.
12. Blend together using an electric hand mixer, or whisk, until smooth.
13. Mix in eggs 2 at a time, mixing just until combined after additions.
14. Mix in corn puree until combined.
15. Prepare pan: Wrap 2 layers of heavy duty aluminum foil tightly around outside spring form pan.
16. Pour cheesecake filling over graham cracker crust.
17. Place cheesecake in a roasting pan large enough to allow extra space around all sides.
18. Place roasting pan in oven then carefully pour in enough boiling water around cheesecake to fill halfway up the sides of the spring form pan.
19. Bake at 325 degrees until cheesecake still wiggles slightly, about 1 hour 20 minutes to 1 hour 40 minutes.
20. Whilst the cheesecake is baking, prepare cherry topping: in a small saucepan, combine cherries and sugar. Cook on low until thick and syrupy.
21. Transfer to heatproof bowl and store in refrigerator.
22. Turn off oven and remove cheesecake. Place on top of oven for 1 hour.
23. Pull cheesecake from water bath, let cool at room temperature 1 hour then transfer to refrigerator and chill for 8 hours or overnight. Cut into slices, serve with cherry topping. Enjoy!