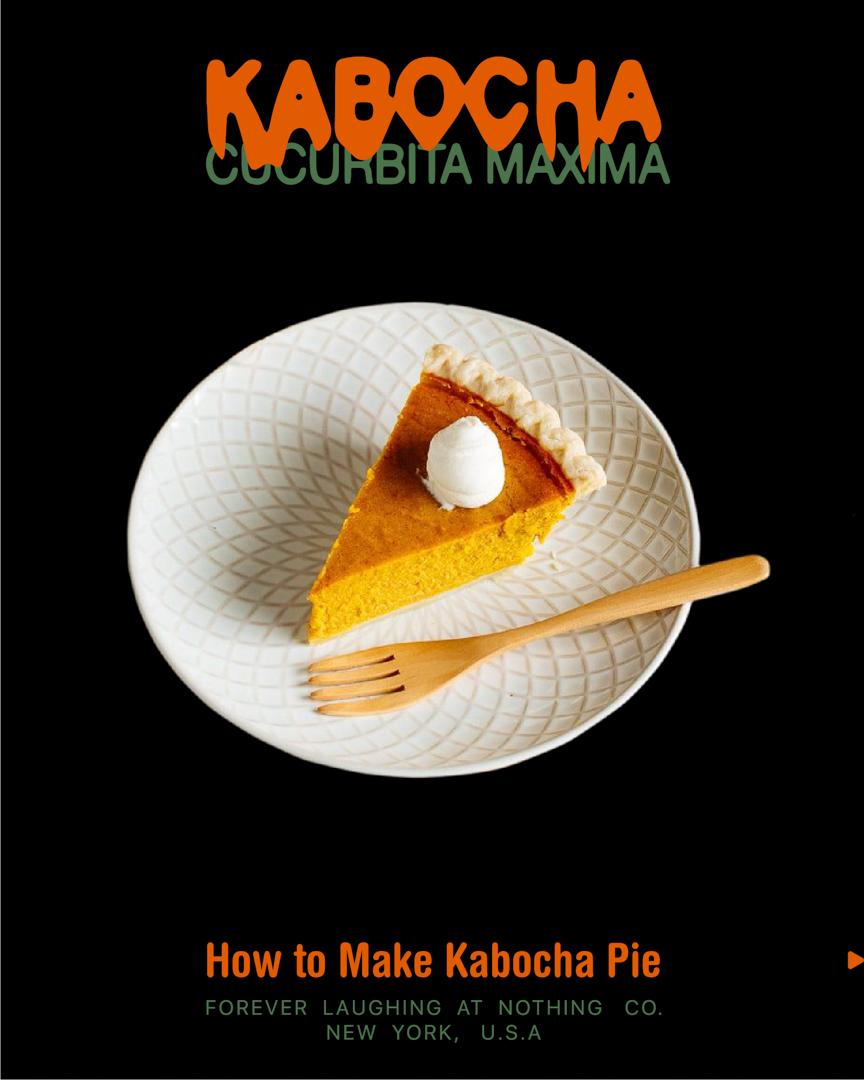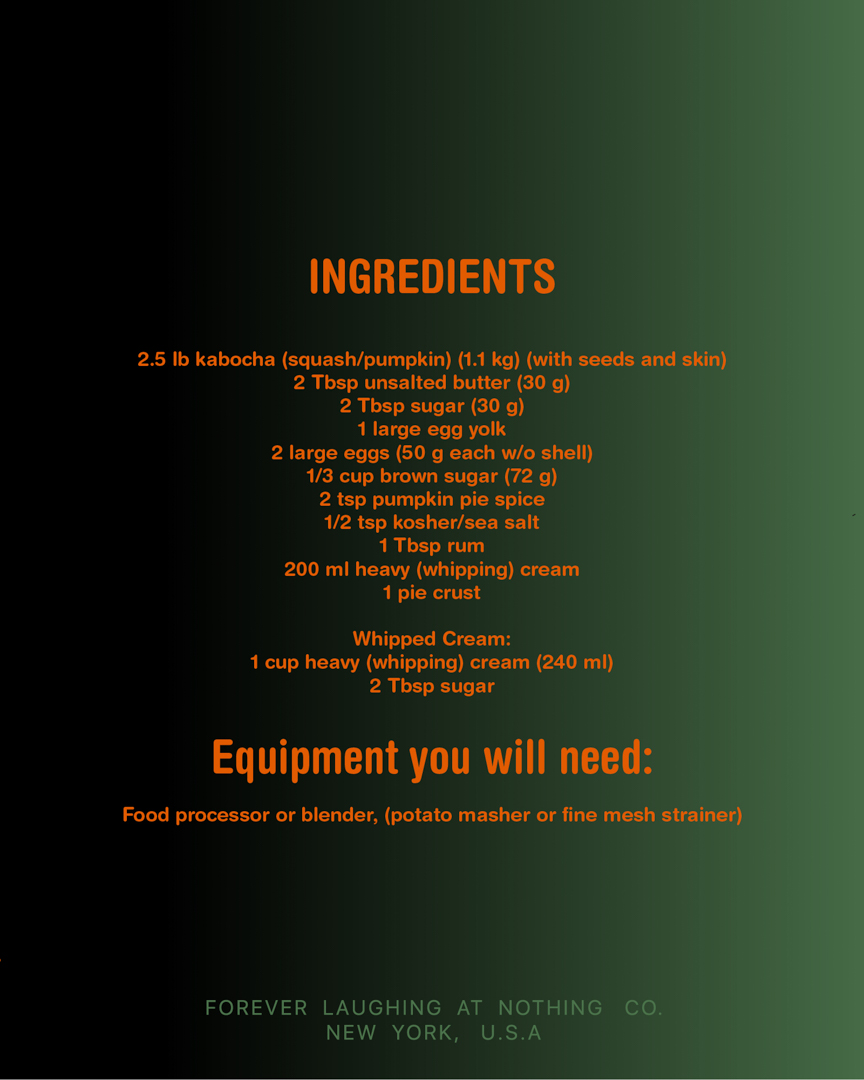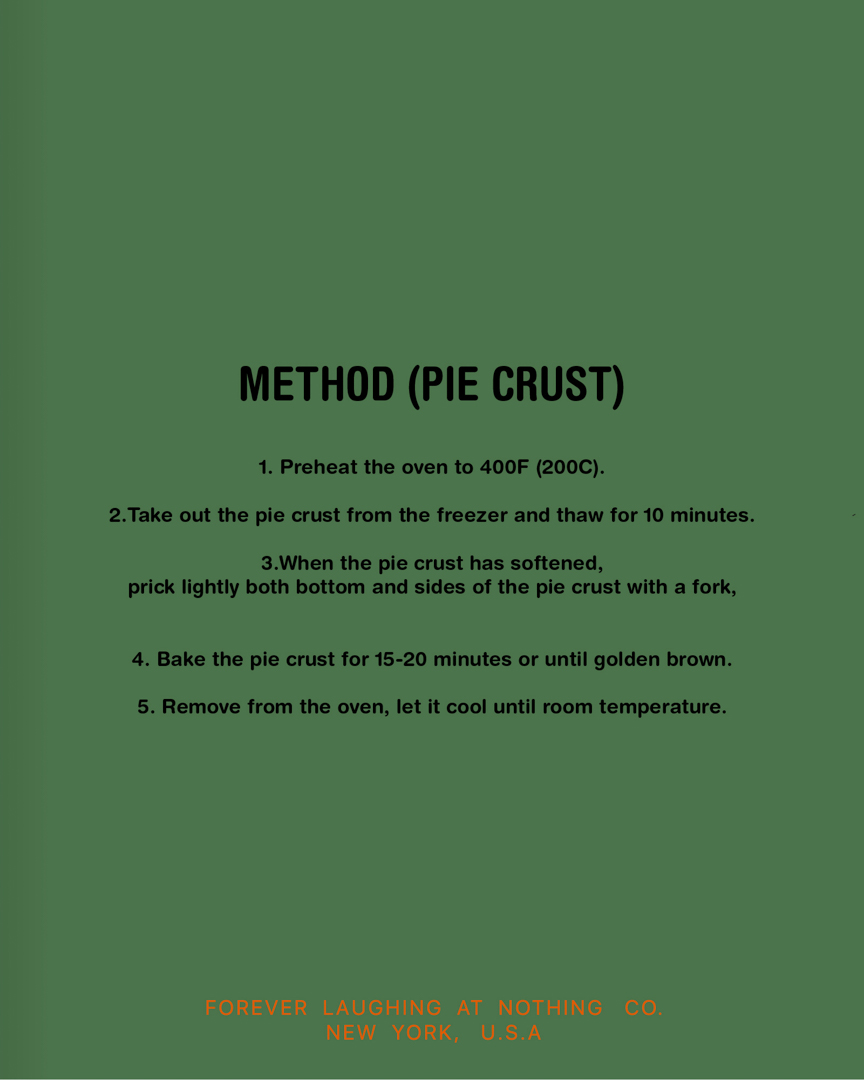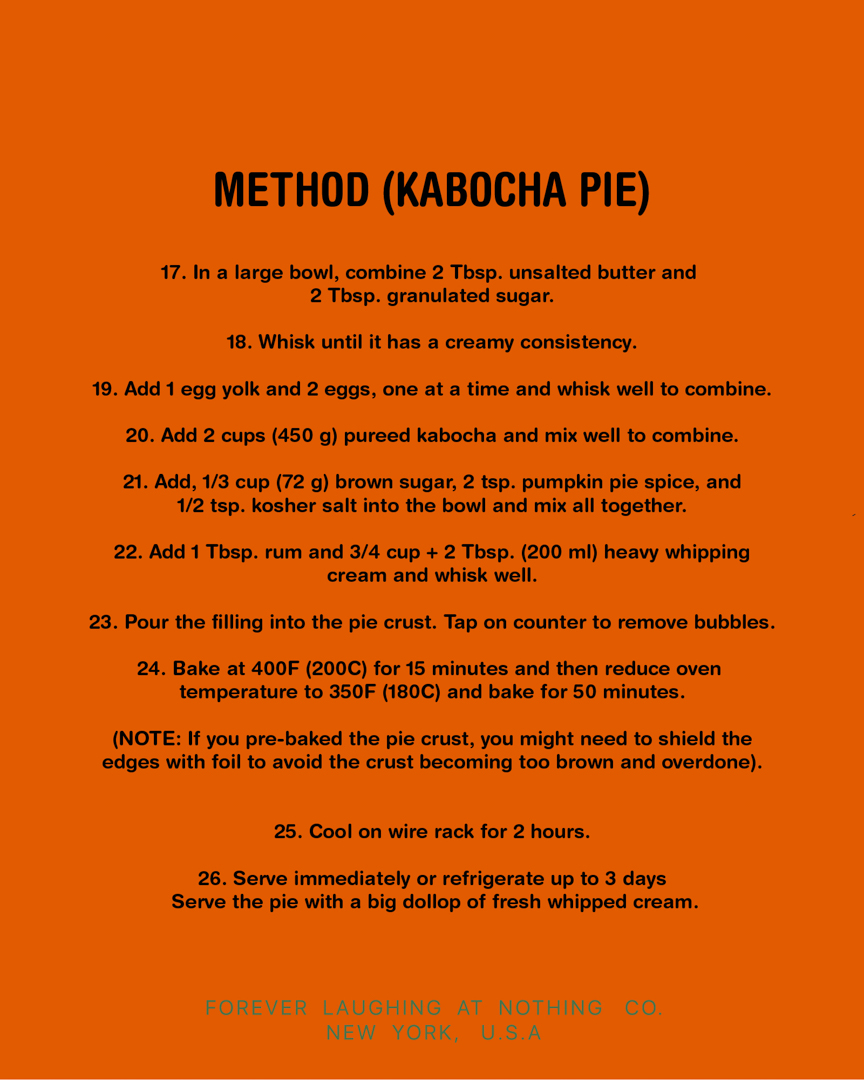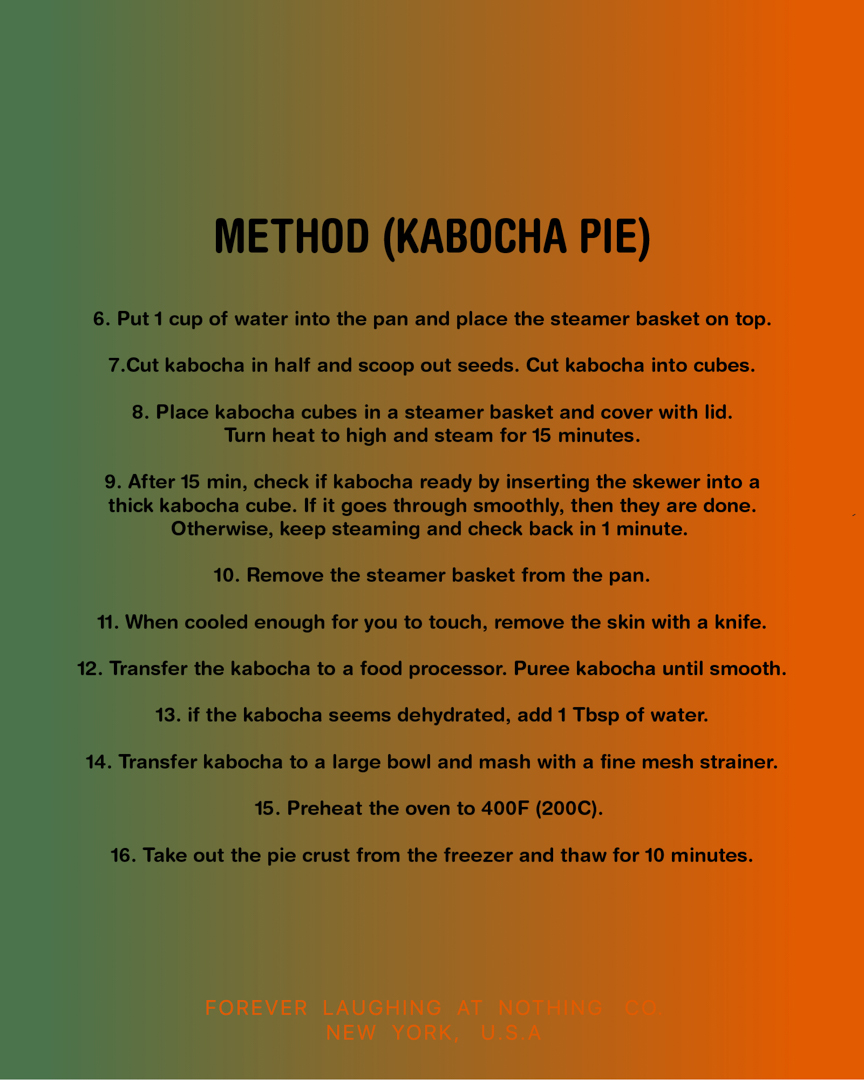 How to make — Kabocha Pie
Ingredients:

2.5 Lb Kabocha (Squash/Pumpkin) (With Seeds And Skin)
2 Tbsp Unsalted Butter
2 Tbsp Sugar
1 Large Egg Yolk
2 Large Eggs
1/3 Cup Brown Sugar
2 Tsp Pumpkin Pie Spice
½ Tsp Kosher/Sea Salt
1 Tbsp Rum
200 Ml Heavy Whipping Cream
1 Pie Crust
______________________________________________________________________

Method:

Pie Crust:

1. Preheat the oven to 400F.
2. Take out the pie crust from the freezer and thaw for 10 minutes.
3. When the pie crust has softened, prick lightly both bottom and sides of the pie crust with a fork.
4. Bake the pie crust for 15-20 minutes or until golden brown.
5. Remove from the oven, let it cool until room temperature.

Pie:

6. Put 1 cup of water into the pan and place the steamer basket on top.
7. Cut kabocha in half and scoop out seeds. Cut kabocha into cubes.
8. Place kabocha cubes in a steamer basket and cover with lid. Turn heat to high and steam for 15 minutes.
9. After 15 min, check if kabocha is ready by inserting the skewer into a thick kabocha cube. If it goes through smoothly, then they are done. Otherwise, keep steaming and check back in 1 minute.
10. Remove the steamer basket from the pan.
11. When cooled enough for you to touch, remove the skin with a knife.
12. Transfer the kabocha to a food processor. Puree kabocha until smooth.
13. If the kabocha seems dehydrated, add 1 tbsp of water.
14. Transfer kabocha to a large bowl and mash with a fine mesh strainer.
15. Preheat the oven to 400F.
16. Take out the pie crust from the freezer and thaw for 10 minutes.
17. In a large bowl, combine 2 tbsp unsalted butter and 2 tbsp granulated sugar.
18. Whisk until it has a creamy consistency.
19. Add 1 egg yolk and 2 eggs, one at a time and whisk well to combine.
20. Add 2 cups (450 g) pureed kabocha and mix well to combine.
21. Add 1/3 cup (72 g) brown sugar, 2 tsp pumpkin pie spice, and ½ tsp kosher salt into the bowl and mix all together.
22. Add 1 tbsp rum and ¾ cup + 2 tbsp (200 ml) heavy whipping cream and whisk well.
23. Pour the filling into the pie crust. Tap on counter to remove bubbles.
24. Bake at 400F for 15 minutes and then reduce oven temperature to 350F and bake for 50 minutes.

NOTE: If you have pre-baked the pie crust, you might need to shield the edges with foil to avoid the crust becoming too brown and overdone.

25. Cool on wire rack for 2 hours.
26. Serve immediately or refrigerate up to 3 days. Serve the pie with a big dollop of fresh whipped cream.