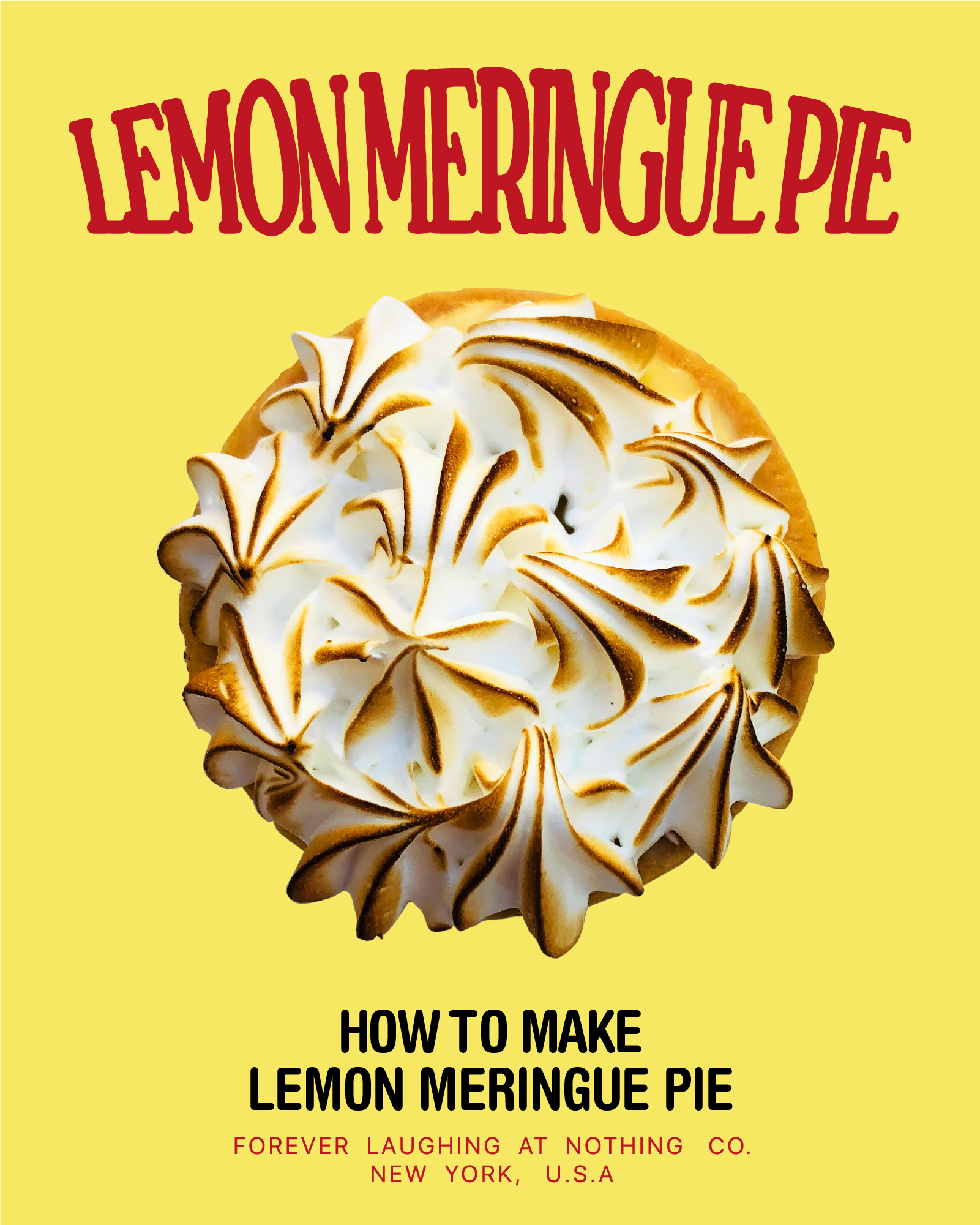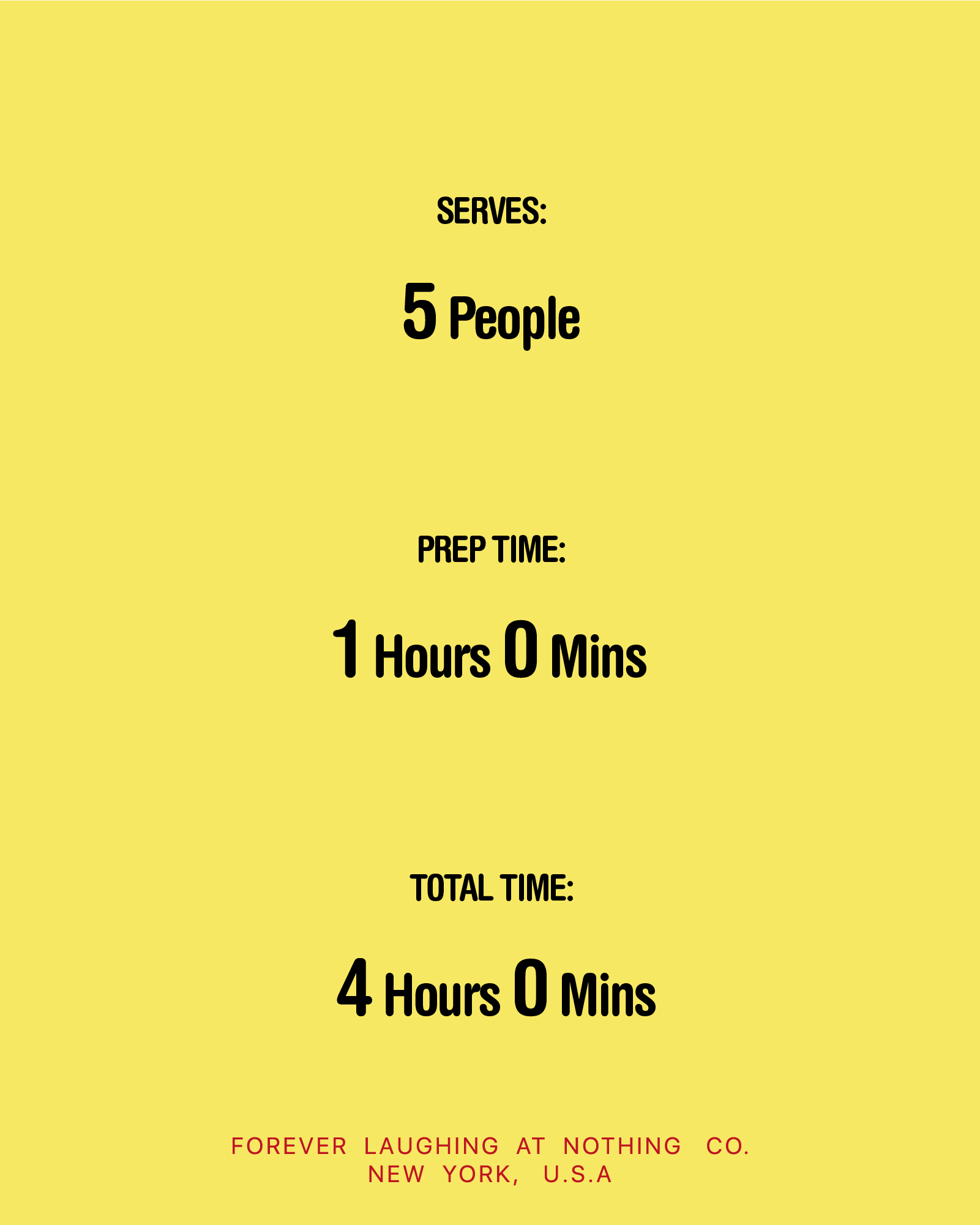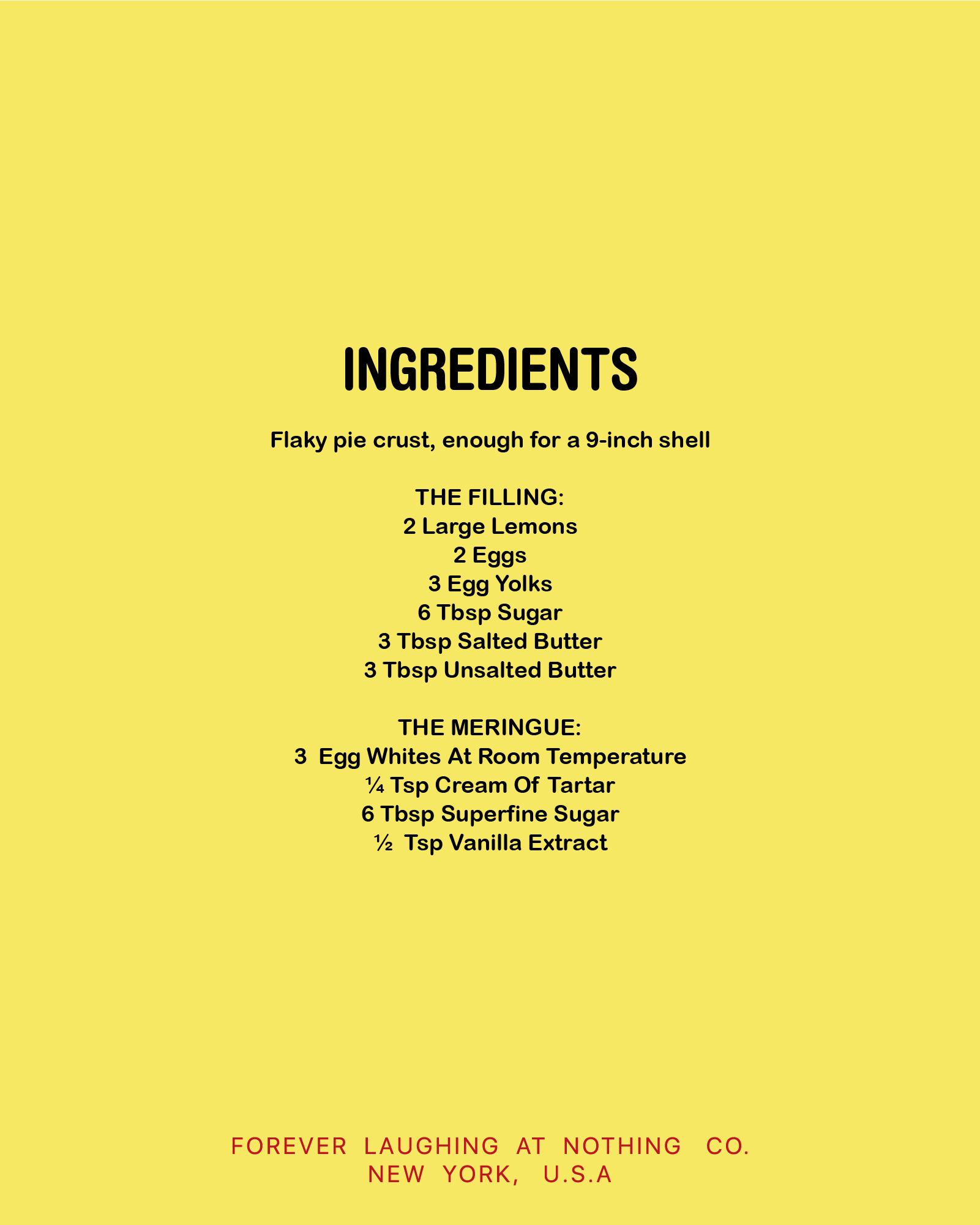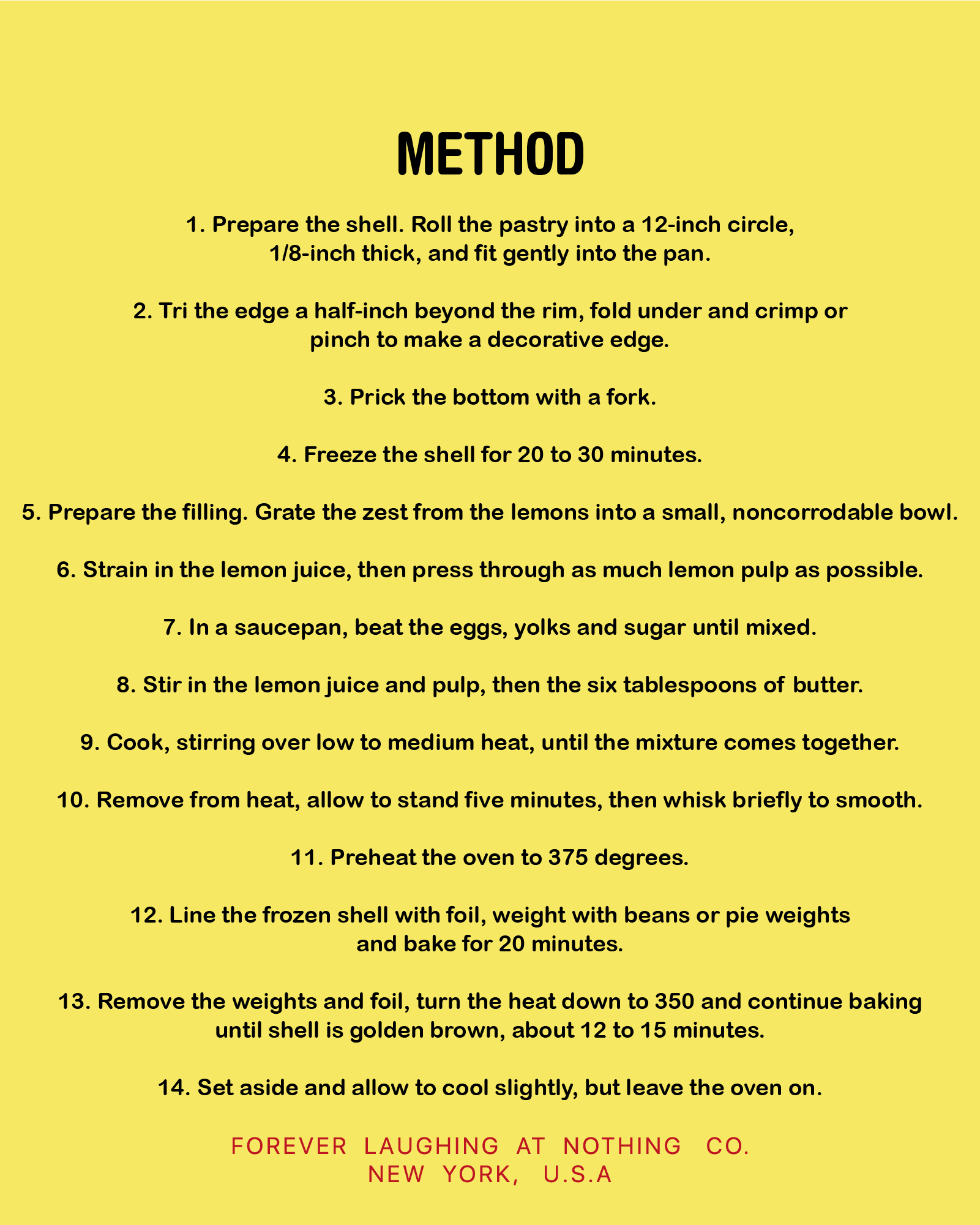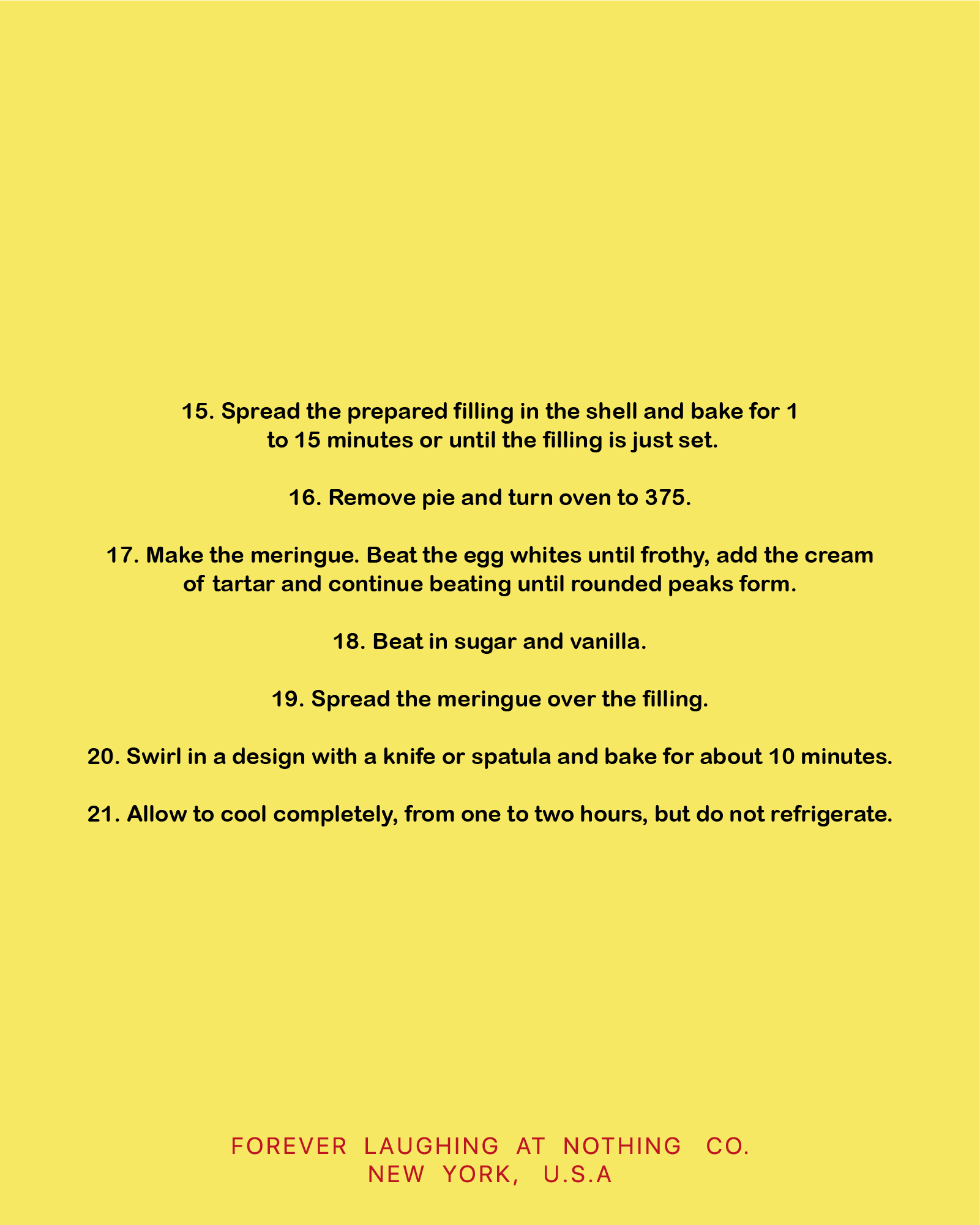 How to make — 'Lemon Meringue Pie'

Serves: 5 People
Prep Time: 1 Hour
Total Time: 4 Hours
______________________________________________________________________

Ingredients:

THE FILLING:
2 Large Lemons

2 Eggs

3 Egg Yolks
6 Tbsp Sugar
3 Tbsp Salted Butter
3 Tbsp Unsalted Butter

THE MERINGUE:

3 Egg Whites At Room Temperature

¼ Tsp Cream of Tartar

6 Tbsp Superfine Sugar

½ Tsp Vanilla Extract

______________________________________________________________________

Method:

1. Prepare the shell. Roll the pastry into a 12-inch circle, 1/8-inch thick, and fit gently into the pan.

2. Tri the edge a half inch beyond the rim, fold under and crimp or pinch to make a decorative edge.

3. Prick the bottom with a fork.

4. Freeze the shell for 20 to 30 minutes.

5. Prepare the filling. Grate the zest from the lemons into a small, noncorrodable bowl.

6. Strain in the lemon juice, then press through as much lemon pulp as possible.
7. In a saucepan, beat the eggs, yolks and sugar until mixed.

8. Stir in the lemon juice and pulp, then the six tablespoons of butter.

9. Cook, stirring over low to medium heat, until the mixture comes together.

10. Remove from heat, allow to stand five minutes, then whisk briefly to smooth.
11. Preheat the oven to 375 degrees.

12. Line the frozen shell with foil, weight with beans or pie weights and bake for 20 minutes.

13. Remove the weights and foil, turn the heat down to 350 and continue baking until shell is golden brown, about 12 to 15 minutes.

14. Set aside and allow to cool slightly, but leave the oven on.

15. Spread the prepared filling in the shell and bake for 1 to 15 minutes or until the filling is just set.

16. Remove pie and turn oven to 375.

17. Make the meringue. Beat the egg whites until frothy, add the cream of tartar and continue beating until rounded peaks form.

18. Beat in sugar and vanilla.

19. Spread the meringue over the filling.

20. Swirl in a design with a knife or spatula and bake for about 10 minutes.

21. Allow to cool completely, from one to two hours, but do not refrigerate.